Kwaidan – Masaki Kobayashi
Kwaidan (1964) è il primo film a colori di Masaki Kobayashi, uno dei registi giapponesi più noti grazie a pellicole come Harakiri (1962), L'ultimo samurai (1967) e l'imponente trilogia sulla condizione umana. Uno dei suoi meriti fu quello di avere scoperto l'allora sconosciuto Tatsuya Nakadai, celebre per aver interpretato diversi ruoli in alcun pellicole di Akira Kurosawa.
Il titolo letteralmente significa "storie di fantasmi" ed è infatti considerato un classico del cinema horror giapponese. Le storie narrate sono tratte da alcuni brevi racconti presenti nel libro Kwaidan: Stories and Studies of Strange Things di Lafcadio Hearn, giornalista e scrittore greco-irlandese naturalizzato giapponese con il nome di Koizumi Yakumo.
Il film è un'antologia che si suddivide in quattro segmenti, quattro storie accomunate da visioni surreali, illusioni e apparizioni sovrannaturali, volte a mettere in luce la debolezza umana e lo scorrere inesorabile del tempo, in cui amore, morte, solitudine e follia si rincorrono senza fine.
La prima storia narra di un amore compreso troppo tardi.
Siamo nella Kyoto del medioevo e un samurai, stufo della povertà, abbandona la dolce e devota moglie, sposandosi con un'altra donna di discendenza nobile. Quest'ultima si rivelerà sempre più esigente ed egoista. Il samurai inizierà ad essere tormentato dal ricordo della suo primo amore decidendo così di ritornare a Kyoto dove la moglie lo accoglie con gentilezza e premura. Passata la notte insieme, il samurai si risveglia abbracciato a quello che è lo scheletro di lei, realizzando che la donna con cui aveva parlato era in realtà un fantasma. La casa inizia a crollare e il samurai diventa gradualmente sempre più vecchio e debole.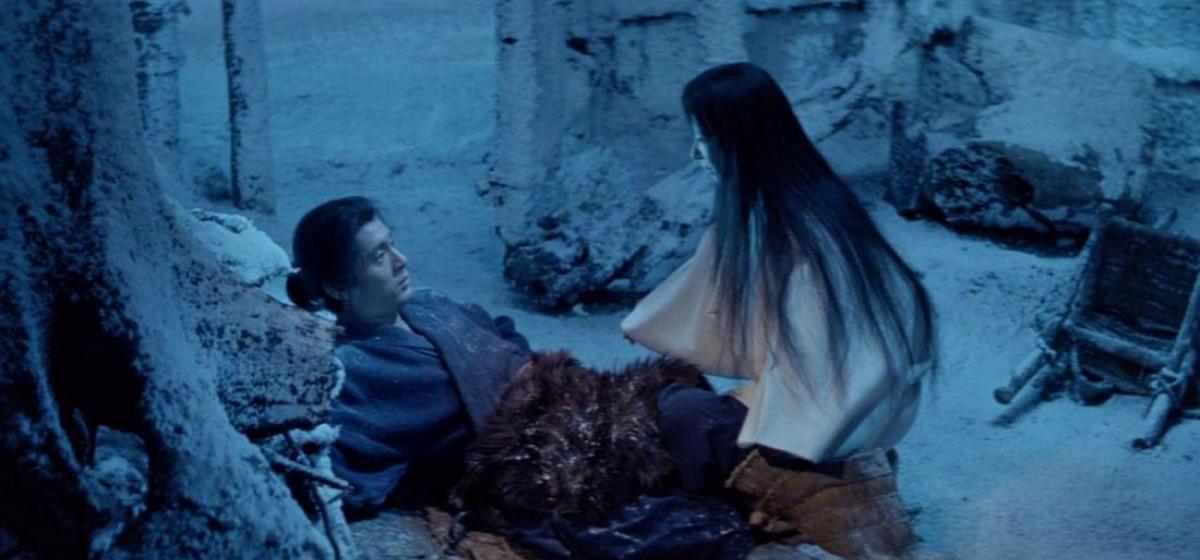 Tanto spaventoso quanto magnifico, questo secondo racconto parla di amore e morte con la stessa passione.
Due boscaioli si trovano in mezzo a una tempesta di neve, e uno dei due, il più giovane, assiste alla mitologica donna delle nevi che, con un soffio, uccide il suo compagno. La donna decide di risparmiare Minokichi, ancora bello e giovane, costringendolo a non rivelare a nessuno quello che aveva visto. Qualche tempo dopo, Minokichi incontra nel bosco una giovane donna di cui si innamora, i due si sposano e mettono al mondo tre bambini.
Passati ancuni anni, il boscaiolo racconta alla moglie quello che era successo quella fredda notte, facendole notare come lei somigli alla donna delle nevi. La donna si mostrerà per la sua vera natura, cioè quel fantasma innamoratosi di lui. Per una seconda volta, risparmierà la vita a Minokichi e ai suoi figli, con un commovente gesto d'amore.
La storia di Hoichi Senzaorecchie
Racconta invece di Hoichi, un ragazzo cieco che, con il suo biwa, narra le antiche battaglie navali. I fantasmi dei caduti, ascoltando le sue melodie, decidono di ucciderlo. I maestri di Hoichi, una volta capito il grave pericolo, utilizzano uno stratagemma, ricoprendo il corpo del ragazzo con formule sacre e rendendolo così invisibile ai fantasmi. Funziona, ma i maestri si dimenticano di dipingere le orecchie del giovane che verranno brutalmente strappate dal fantasma. Hoichi, ormai cieco e sordo, otterrà una notevole fama e molte persone si recheranno da lui per ascoltare le sue melodie.
L'ultimo è l'episodio più metaforico, una storia nella storia.
Uno scrittore sta narrando la vicenda del guerriero Kannai che vede riflesso nella sua tazza di tè uno strano personaggio, che si presenterà la sera stessa a casa di Kannai. Dopo averlo ferito, il samurai sparisce e giungono altri tre samurai con l'intento di vendicarlo. Kannai non riuscirà a ucciderli in quanto questi sono dei fantasmi. Qui il racconto si blocca.
Ritorniamo allo scrittore che, dopo aver riletto il suo racconto, fugge terrorizzato nel vedere nel riflesso di una giara d'acqua il riflesso di Kannai. Il ritorno al reale è il momento in cui l'horror ha invaso la realtà e sembra rivolgersi allo spettatore guardandolo direttamente in camera.
A fare da sfondo a queste storie spettrali, Kobayashi crea delle vere e proprie opere d'arte, magnetici dipinti da cui non riesci a staccare lo sguardo, facendo della ricchezza delle immagini la forza principale di tutto il film.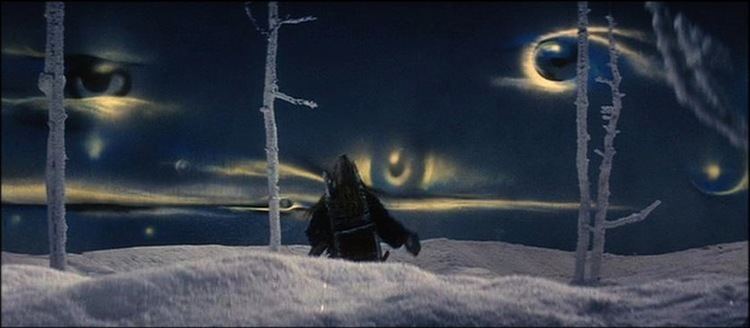 Sorprendente l'immagine di quel cielo ne "La donna delle nevi" ricoperto da occhi disegnati che scrutano la fragilità del protagonista.
Kobayashi riesce perfettamente nell'integrare queste immagini suggestive ed eleganti a un tappeto di suoni spettrali e inquietanti grazie alla colonna sonora di Toru Takemitsu.
A quel tempo, Kwaidan è stato il film giapponese più costoso, con un budget di 350 milioni di yen. È stato interamente girato all'interno di un hangar per aerei, fra enormi set artificiali e sgargianti fondali dipinti a mano, richiedendo un anno di riprese.
Il risultato è qualcosa di molto vicino a un'esperienza surreale, sospesa in una dimensione semi-onirica di grandissimo impatto emotivo.
Un film che, nonostante le vicende narrate appaiano così lontane nello spazio e nel tempo da noi, riesce a coinvolgere completamente lo spettatore. Una poesia, un sogno e un incubo. Kwaidan è tutti e tre.